---
The Hungry Tiger
120 Charter Oak Street
Manchester, CT 06040
Phone: 860-649-1195
E-Mail Us
Dining at the Hungry Tiger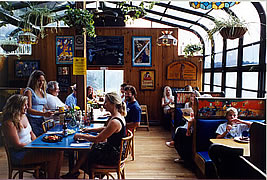 Come join us for lunch or dinner. As you can see, our facilities provide a friendly comfortable (and affordable) dining experience for family and friends...

We feature specialty sandwiches, specialty salads, a wide selection of burgers (including "create your own burger", as well as a large selection of dinner entrees (steaks, ribs, chicken, fish, Mexican). We also have a children's menu and, of course, drinks and desserts. Click HERE to check out our menu!

After dinner, stick around for live entertainment!!